Faculty of Arts in Niš holds the Concert Showroom, which is one of the best equipped, the best and most modern in this part of Serbia. Within Concert Showroom there is the Sound studio with modern equipment for recording and sound production. ​​The activities in the domain of the Faculty of Arts Multimedia Center are also being done there.
Concert Season and Exhibition Season of the Faculty of Arts in Niš, as well as sound recording and production, are being realized In Concert Showroom.
Promotion of students, presentation of Faculty of Arts in Niš professors, as well as of guest artists from the country and abroad are the idea and the goal of Faculty of Arts Concert and Exhibition Season.
Concert Showroom is located at Knjaževačka 2a street, beside the elementary school "Njegoš".
The Concert Showroom is connected with the center and other parts of the city by the city bus station nearby, with a regular line Bubanj – Donja Vrežina (D. Vrežina).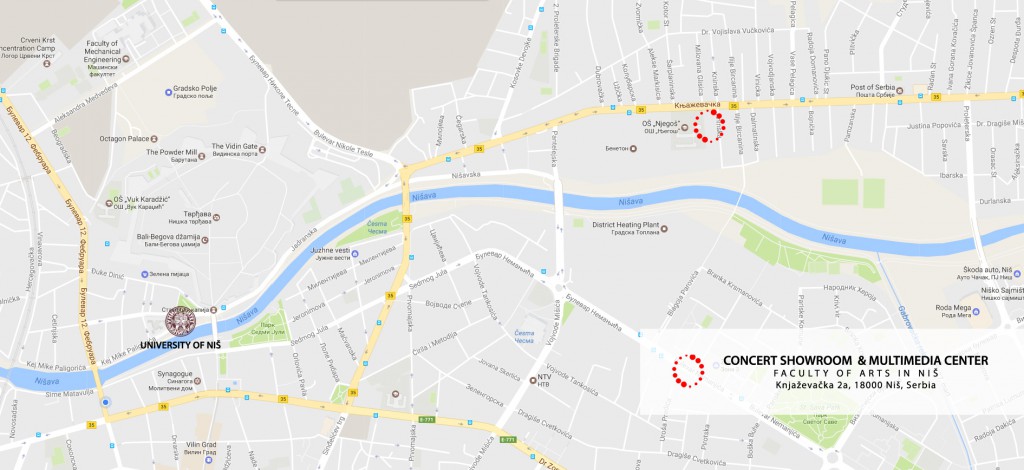 The capacity of extremely acoustic hall is 250 seats. There are two grand pianos (Yamaha, Kawai) on the large stage. High and wide walls, with a quality system for posting pictures, as well as rail lighting, are suitable for setting up large-format works. The Concert Showroom is equipped with air-conditioning system and steam heating, and there is also a parking space.
A professional sound studio with modern equipment for studio recording and sound production is afforded by stage fencing panels for sound insulation.
Marko Micić
Head of Multimedia Center
phone: +381 63 411 959
e-mail: marko@artf.ni.ac.rs
Miodrag Obradović
Recording technician
phone: +381 63 235 962
e-mail: obradovic.miodrag@artf.ni.ac.rs